Director of Kids Ministry
Amy was raised in a Christian home and was involved in the children and youth ministries at church while growing up. She repented of her sin and received Christ as her savior in middle school. She graduated from Indiana University with a degree in Elementary Education and taught K-3 for seven years in Northern Virginia and for two years in Louisville, KY. She has lived in Louisville and been joyfully married to Vivek for 25+ years. They have four children: Kayla, Adeline, Braden, and Cameron. Amy began serving Clifton's families as the Director of Kids Ministry (PK-5th) in 2018.
Minister of Executive Leadership
Jason was born and raised in Michigan. Through the witness of his high school girlfriend, who would later become his wife, he came to know and trust Christ for salvation. He sensed a call to Christian ministry during the 20+ years he served in the Army. Upon military retirement, Jason, his wife, Sara, and their children, Isaiah, Eli, and Gabby, moved to Louisville; so Jason could study at The Southern Baptist Theological Seminary. He began serving on staff at Clifton Baptist Church in 2019 as the Pastoral Assistant and then transitioned to the Minister of Executive Leadership in 2022. Jason helps bring the vision of the congregation and elders to fruition by providing direction and support to the staff and deacons.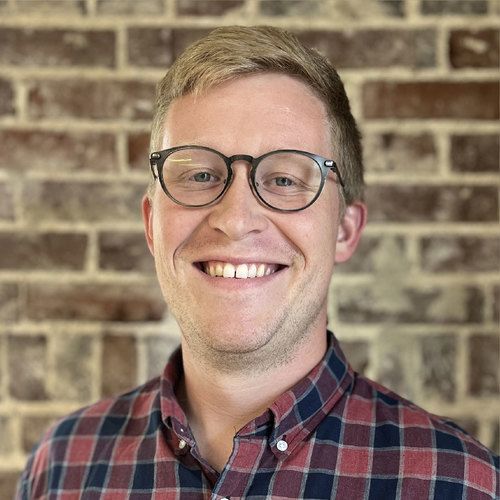 At the age of 15, Alex was saved when came to know his sin and Christ's perfect sacrifice on his behalf. It was during his time in college that he began to pursue full-time vocational ministry. He graduated from the University of Arkansas in 2013 with a degree in Cultural Anthropology and moved to Louisville in 2015 to pursue a degree at the Southern Baptist Theological Seminary. Alex and his wife, Claire, have been married since 2016, and have two daughters: Annie & Evie. He became Clifton's Minister to Junior High in 20XX, and loves serving the students of Clifton.
While raised in a Christian home and in a Bible-believing church, Jim did not grasp the personal significance of the gospel nor the grace of God until his early 20s. He grew up hiking the mountains of Colorado and has served in music ministry for most of his life, two things he loves. He is also passionate about pastoral ministry and training leaders. Jim has a BA from Colorado State in History and Music and is pursuing post-MDiv. education at the Southern Baptist Theological Seminary. He and his wife, Pam, are blessed with three sons: Justice, Emmett, and Breck. Jim became Clifton's Minister of Music in 20XX, and serves the church with thoughtful service planning and leading the congregation in worship through song.
Jodi professed faith in Jesus Christ when she was six years old after hearing her mother share the gospel with her at bedtime. By the example of her parents and the ministry of the local church, she grew up in love for God, His Word, and His people. Shortly after graduating from Palm Beach Atlantic University, she married Zackary and they moved to Louisville for his studies at Boyce College. Jodi began serving as Clifton's Office Administrator in December of 2019. Her responsibilities include coordinating church communications; managing the membership rolls and membership process; and assisting the congregation, elders, deacons, and staff in the work of the ministry.
David heard the gospel from an early age from his parents. He was helped to see his need for Jesus by watching the way the Lord changed his older brother when he became a Christian. After becoming a Christian at a young age, David continued to grow in faith through the ministry of several churches. He joined Clifton Baptist in 2001. While here, he met Ericia, and they were married in 2005. They have five children: Ruth, Elisabeth, Seth, Faith, and Joseph. David began serving as a lay elder at Clifton while working for the Cabinet for Health and Family Services. He joined Clifton's full-time staff in 2014 as our Pastor of Discipleship. In this role, he provides general pastoral care and leadership for the congregation with particular responsibilities for the small group ministry and member care.
Pastor of Leadership Development
The Lord blessed Shawn with Christian parents who took him to church and taught him the gospel from a young age. Shawn believes he trusted Christ at the age of 10. In 1996, he helped to start Trinity Baptist Church in Louisville, KY when he began working on his Ph.D. In 2001 Trinity merged with Clifton, where he has served ever since. Shawn currently serves as Clifton's Pastor of Leadership Development. In this role, he intentionally equips individuals for the work of the ministry through Bible study, the internship program, and the missions cohort. He also teaches church history at the Southern Baptist Theological Seminary. Shawn is married to Gretchen, and they have five sons: Benjamin, Jonathan, Aaron, Nathan, and Stephen.
John began to trust Christ at an early age under the instruction of his parents, and thanks God for graciously deepening his hope in Him with each passing year. Early in his college years the Lord opened John's eyes in new ways to His greatness and glory, and slowly began to instill in him a love and appreciation for the local church. It was also at this time that he met his wife, Sarah. They now have six children: Anna, Rachel, Trevor, Ryan, Julia, and Tyler. Throughout their time at Clifton, John and Sarah have been encouraged by the ministry of the local church and actively involved in Clifton's small group ministry. John joined Clifton's staff in 2008, and transitioned into the role of Pastor of Preaching in 2016.